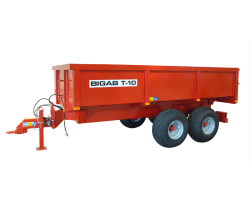 Under the name BIGAB T – 10, launches BIGAB a dump trailer in its lineup off the same fine quality as the one BIGAB is already well-known for. The dump trailer is to be seen as an alternative for users in combination with tractors, excavators and loaders in need for a quick and simple carrier of various types of materials and where one might not be able to gain from the cost – benefits that the hook lift trailer concept normally provides.
BIGAB T – 10 dump trailer is a relatively simple but sturdy dump trailer completely in the same spirit as the BIGAB. The trailer loads 10 ton and has a tipping angle of 56°. The bridge loads 6,4 m3 with a 5 mm plate thickness at the bottom and 4 mm at the sides. The trailer can be ordered with three types of tailgates. One mechanical kombi – door tailgate and two types of hydraulic tailgate. The inside dimensions of the bridge (4 m long and 2, 3 m wide) enables one to bring along quite a lot of the cargo. The trailer comes with 400/60*15,5 tires but other tire dimensions are available as an option. The trailer can be ordered with or without 4 – wheel drum brakes.
Unique for the BIGAB dump trailer is that it is equipped with bolted drawbar which provides comfort and increased flexibility since it offers the opportunity to use different heights of the drawbar on the basis of need. For a trailer out of the ordinary, we also offer frame steering for the work that needs to be done in narrow areas, where the need for a smooth and easily maneuvered trailer often is needed.
Price:
Please contact us
| | |
| --- | --- |
| Total length | 5.35 m |
| Total width | 2.41 m |
| Height | 1.84 m |
| Internal dimensions of load surface | 3.97 × 2.3 × 0.7 |
| Load capacity | 6.4 m3 |
| Bottom panel thickness | 5 mm |
| Sides panel thickness | 4 mm |
| The trailer's dead weight | 2 400 kg |
| Max. payload | 10 000 kg |
| Total weight with load | 12 400 kg |
| Axles | 70 × 70 |
| Brakes | 4 - wheel drum brake as option |
| Brake force requirement | 160 bar |
| Max. speed | 40 km/h |
| Towing eyelet, vertical/horizontal, max. | 17 000 / 3 000 kg |
| Load on towing eyelet, empty trailer | 500 kg |
| Load on towing eyelet, fully loaded trailer | 2 800 kg |
| Tipping angle | 56 ° |