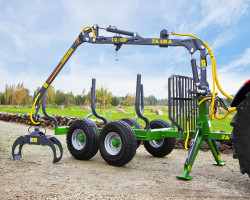 Our 6-ton lumber trailer with FARMA 3.8 m G2 crane. The T6 is a compact, modern, lumber trailer with a strong G2 crane whose reach makes it easy to pick up timber behind and around the trailer. The model is intended as a "firewood trailer", for use during simpler forestry work. Various equipment options extend the areas of use. The C 3.8 G2 is a modern crane with linkage system for optimal movement and lifting capacity.
The choice of materials and the crane's characteristics have rapidly made it a favourite among manufacturers of smaller forestry machines. The trailer in the picture is optionally equipped with extension bank, radio controlled winch and insert bucket assembled in the crane's grapple.
Radio controlled winch for the 3.8 m crane. Because the winch is screwed to the crane without any need for welding, it is easy to retrofit. Older cranes may need some welding work during installation.
Price:
Please contact us
Trailer dimensions | Crane dimensions | Matrix
Trailer
| | |
| --- | --- |
| Load capacity | 6 000 kg |
| Loading area | 1.4 m2 |
| Loading lenght | 2.82 m |
| Total lenght | 4.4 m |
| Total wide | 1.8 m |
| Ground clearance | 460 mm |
| Wheel dimension | 11.5/80 - 15.3 |
| Weight basic trailer | 721 kg |
Crane
| | |
| --- | --- |
| Lift capacity net | 22 kNm |
| Slewing torque | 3 kNm |
| Slewing angle | 360 ° |
| Reach | 3.8 m |
| Recommended Oil flow | 10 - 35 l/min |
| Working pressure | 175 bar |
| Weight kg incl. grapple 0,12 / Weight of crane* | 371/300 |
| Weight kg incl. grapple 0,16 / Weight of crane* | 392/300 |
| Lifting force kg full length (excl. grapple/rotator) | 460 |
* Weight kg incl. grapple, link, rotator