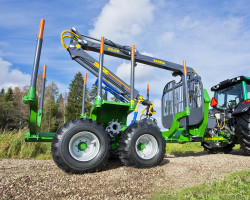 FARMA proudly presents our new design-protected series of lumber trailers under the concept FARMA Generation 2. Trailers based on user experience. This is a completely new and innovative design, mainly thanks to the octagonal, bent, centre profile, which gives a more durable design that also means the central section glides more easily over high stumps and rocks. In its basic version, the trailer was introduced in the T10 and T12 models. The level of standard equipment is high.
The differences between the trailer models lie in the quantity of timber the trailer is intended to handle. The T12 G2 has thicker castings in the central section, which gives better possibilities of withstanding the forces from our cranes with large lifting torque. The T12 G2 is equipped with extension poles. The trailer can be specially equipped, based on a number of options, direct from the factory.
The T10 G2 can be combined with C 7.0 as well as C 6.3 m crane. The T12 G2 crane can also be equipped on request with the C 8.5 m crane with double extension, for a trailer out of the ordinary.
The FARMA C 7.0 is one of the market's most well-thought out and best value-for-money cranes. The crane has a reach of 7.0 m with single extension. The lifting power and movement geometry are exceptional. The attractive designs, together with the choice of material, give a low dead weight.
Price:
Please contact us
Trailer dimensions | Crane dimensions | Matrix
Trailer
| | |
| --- | --- |
| Load capacity | 14 000 kg |
| Loading area | 2.8 m2 |
| Ground clearance | 540 mm |
| Wheel dimension | 500/55 - 17 Trac |
| Weight basic trailer | 2 500 kg |
| Steering angle with frame steering | 52 ° |
Crane
| | |
| --- | --- |
| Lift capacity net | 45 kNm |
| Slewing torque | 16 kNm |
| Slewing angle | 360 ° |
| Reach | 8.5 m |
| Telescopic stroke length | 3 m |
| Recommended Oil flow | 40 - 70 l/min |
| Working pressure | 190 bar |
| Weight kg incl. grapple 0,20 / Weight of crane* | 985/850 |
| Weight kg incl. grapple 0,22 / Weight of crane* | 1 020/850 |
| Lifting force kg full length (excl. grapple/rotator) | 520 |
* Weight kg incl. grapple, link, rotator