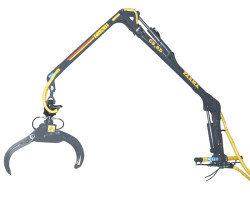 As part of FARMA's Generation 2 range, we are proud to present a new variant of our successful bestseller, the C 3.8, which has the whole of Europe at its feet. This is one of the smaller cranes in our range, which we have now decided to launch in a new guise under the Generation 2 concept. For us, it is important to be able to offer all our customers the very best cranes adapted to your particular needs, regardless of how much forest you have.
The new crane, the C 3.8 G2, is now available with a modern link arm system. The crane's components are well designed to offer our users an extraordinary crane. Hydraulic hoses are well protected internally in the lift and outer arms.
'Good value' and 'well thought-through' are two of the phrases that best describe the new cranes in the FARMA Generation 2 range. All the cranes are based on a new arm system comprising a link system between the lift arm and the outer arm. Thanks to their design, the cranes offer the very best close range properties, a more even operation and an outer arm that is equally powerful through the working range.
Price:
Please contact us
Crane dimensions | Schemat podnoszenia
Crane
| | |
| --- | --- |
| Lift capacity net | 18 kNm |
| Slewing torque | 3 kNm |
| Slewing angle | 360 ° |
| Reach | 3.8 m |
| Recommended Oil flow | 10 - 35 l/min |
| Working pressure | 175 bar |
| Weight kg incl. grapple 0,12 / Weight of crane* | 371/300 |
| Weight kg incl. grapple 0,16 / Weight of crane* | 392/300 |
| Lifting force kg full length (excl. grapple/rotator) | 475 |
* Weight kg incl. grapple, link, rotator