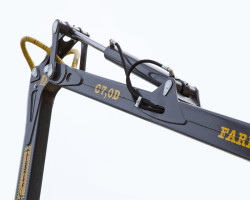 Under the FARMA Generation 2 series, we are proud to present yet another crane model. This time we are introducing the C 7.0, a modern crane with a link arm system.
The C 7.0 crane offers substantial reach and power. The crane has been equipped with a single telescope of 1.3 m. The crane's components are well designed to offer our users an extraordinary crane. The outer cylinder, telescopic cylinder and hydraulic pipes/hoses are well protected internally and on the upper side of the arm system.
'Good value' and 'well thought-through' are two of the phrases that best describe the new cranes in the FARMA Generation 2 range. All the cranes are based on a new arm system comprising a link system between the lift arm and the outer arm. Thanks to their design, the cranes offer the very best close range properties, a more even operation and an outer arm that is equally powerful through the working range.
Price:
Please contact us
Crane dimensions | Schemat podnoszenia
Crane
| | |
| --- | --- |
| Lift capacity net | 48 kNm |
| Slewing torque | 16 kNm |
| Slewing angle | 360 ° |
| Reach | 7 m |
| Telescopic stroke length | 1.3 m |
| Recommended Oil flow | 40 - 70 l/min |
| Working pressure | 190 bar |
| Weight kg incl. grapple 0,16 / Weight of crane* | 900/810 |
| Weight kg incl. grapple 0,20 / Weight of crane* | 945/810 |
| Weight kg incl. grapple 0,22 / Weight of crane* | 980/810 |
| Lifting force kg full length (excl. grapple/rotator) | 720 |
* Weight kg incl. grapple, link, rotator