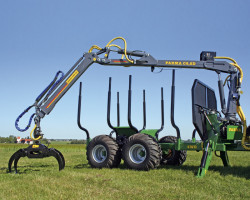 Our reel driven and well – equipped trailer is a versatile trailer with a low centre of gravity for the best accessibility. As standard the trailer is equipped with disc brakes on two wheels and a unique hydraulic displacement of the bogie.The trailer can be ordered with a C 8,5 m crane. The crane is part of the Generation 2 series. It has a link system to optimise the crane's movement and its lifting capacity. C 8.5 is equipped with a double telescopic extension covering a length of 3 m.
The hydraulic unit is standard equipment with electrical on-off for the grapple, extension, support legs and drive. This gives a lightweight (10.5 kg) hydraulic unit that contributes to the trailer's versatility. We can offer different systems to control the crane and trailer. Among others we can offer proportional controllers with or without radio control and hydraulic servo valves with electrical on/off, both controlled via a joystick.
The frame steering on this powered lumber trailer has its articulated joint behind the railing, which results in optimal handling characteristics and a versatile tractor-trailer combination.
The trailer can be equipped with its own hydraulic system. This results in total independence from the capacity of the tractor's hydraulic system. The hydraulic system consists of a pump for the power take-off as well as a tank and filter. We can offer different pump options with piston or gear pumps.
The powered trailer is equipped with a hydraulically offset bogie that is movable from the tractor. There is a hydraulic piston on each side of the central tube, which can displace the bogie by 50 cm. This results in better balance with different timber lengths and which also assists, among others, in difficult conditions and when stuck in the ground.
Price:
Please contact us
Trailer dimensions | Crane dimensions | Matrix
Trailer
| | |
| --- | --- |
| Load capacity | 14 000 kg |
| Loading area | 2.8 m2 |
| Ground clearance | 530 mm |
| Wheel dimension | 500/55 - 17 Trac |
| Weight basic trailer | 2 966 kg |
| Steering angle with frame steering | 48 ° |
Crane
| | |
| --- | --- |
| Lift capacity net | 45 kNm |
| Slewing torque | 16 kNm |
| Slewing angle | 360 ° |
| Reach | 8.5 m |
| Telescopic stroke length | 3 m |
| Recommended Oil flow | 40 - 70 l/min |
| Working pressure | 190 bar |
| Weight kg incl. grapple 0,20 / Weight of crane* | 985/850 |
| Weight kg incl. grapple 0,22 / Weight of crane* | 1 020/850 |
| Lifting force kg full length (excl. grapple/rotator) | 520 |
* Weight kg incl. grapple, link, rotator