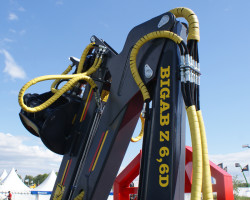 BIGAB hook lift systems are a Swedish original product with more than 30 years of product development behind it. BIGAB is simple in its design, in the best sense of the word and the trailer flexible, but even the best of trailers needs to change design and be innovated.
Introducing the first step in PRO BIGAB. PRO BIGAB involves an upgrade of both the design as well as the functionality. Our user's suggestions and proposals have been the base for the focus in regards to developing the PRO BIGAB. PRO BIGAB is a development process that extends over time.
Many are the users who have asked and wished for a Z crane for their BIGAB. The Z crane is designed specifically for BIGAB. The crane is built to be parked in front of the tower in the transport position so as to not interfere with the tipping and hooking. A lot of effort has gone into increasing the visibility from the tractor cabin when tipping and hooking.
Price:
Please contact us
Crane dimensions | Schemat podnoszenia
Crane
| | |
| --- | --- |
| Lift capacity net | 48 kNm |
| Slewing torque | 16 kNm |
| Slewing angle | 380 ° |
| Reach | 6.6 m |
| Telescopic stroke length | 1.45 m |
| Recommended Oil flow | 50 - 80 l/min |
| Working pressure | 190 bar |
| Weight kg incl. grapple 0,20 / Weight of crane* | 952/820 |
| Weight kg incl. grapple 0,22 / Weight of crane* | 963/820 |
| Lifting force kg full length (excl. grapple/rotator) | 750 |
* Weight kg incl. grapple, link, rotator